Personalized Vitamin and Supplement Programs
If you are like other people who come to us for Nutrition Reflex Testing, then most likely:
you have one or more health conditions that won't go away
you have visited doctors, or even alternative practitioners, but didn't get the results you hoped for
health conditions are significantly affecting your life, career, family and/or personal finances
you realize these conditions aren't going to get better unless the real source of the problem is found and corrected
What is Nutrition Reflex Testing? What is clinically designed nutrition?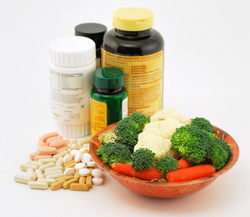 Have you ever heard about a certain nutritional supplement and wondered if it might help improve your health? Or are you taking supplements and wondering whether or not you are seeing results?
Nutrition Reflex Testing is a non-invasive analysis of the body. It helps to identify barriers to healing and uncover organs and glands that may not be functioning optimally due to a nutritional deficiency. The fundamental premise of clinical nutrition is that the body has the potential to fully repair itself when given the right nutrients.
What are we testing for?
Through our analysis we test your body's neurological reflexes. These reflexes are the body's way of telling us what and how your nervous system is doing. It is the job of the nervous system to regulate a variety of processes for each and every organ. These reflexes are tested on the surface of the body and then the findings are analyzed.
How do we get the body's reflex information?
Energy flows exist between all parts and organs of the body. These flows can become disrupted for a variety of reasons.
The practitioner will do the analysis by contacting your extended arm with one hand and the specific reflex area with other hand. If the tested reflex is stressed, your nervous system will respond by reducing energy to the extended arm, causing it to weaken and drop. A drop in the arm indicates underlying stress or dysfunction in that area, which can be affecting your health.
Once the underlying stress is corrected, this weak muscle response will no longer occur.
Since we directly use the body for analysis, it tends to be faster and just as accurate as doing lab tests.
Following your consultation, you will be given the results in a way that you can understand, with a specific nutritional program to follow. We clearly explain and write out your nutritional program, so you will understand and feel confident in achieving positive results. We strive to incorporate your program into your existing routine to make the change easier and more maintainable.
How soon will I see improvement?
Although every case is different, we often hear enthusiastic reports from patients in as little as 4-6 weeks. The most impressive results often come from those that have followed their nutritional program closely. As the saying goes, "nothing changes if nothing changes."
Sticking to the plan…
Generally chronic health problems do not develop overnight, and many can be linked to years of improper diet. This, along with environmental influences, creates nutritional deficiencies and imbalances leading to organ dysfunction.
Therefore, the sooner and more thoroughly you implement the program, the sooner you will see results. Our goal in creating a custom designed nutritional program for you is to identify detrimental old habits and replace them with healthy ones.
What are my chances for recovery?
Our long term experience in a variety of cases tells us the first thing we must determine is whether you might benefit from Nutrition Reflex Testing. If we determine you are NOT a Nutrition Reflex Testing case, then you will probably not benefit from the program. However, if you ARE a Nutrition Reflex Testing case, we believe nothing else will help you more!
---
Contact us now! Fill in the below form to get started.